The Easiest Herbal Remedy Ever
Posted On March 13, 2008
Hello Herb Lovers,
Guess what? The parcels have arrived!! You know what that means, right? Lots of herbal goodies for me to share with you.
Of course they have arrived while I am mid nervous breakdown. Tomorrow is my 40th (good grief has time really gone that fast?) then there will be a 40th birthday bash on saturday and as most of you will already have noticed the "quick and easy" upgrade of my CMS has shut the site down and I am working as hard as I can to get it all back and running. I may even go back up tonight, as long as you guys dont mind a screwy login that doesnt let you logout (then throws you out after 120minutes) it also doesnt talk to the forum login, and there are some questionable colours happening up top. We'll see how much I can get done.
As much as the upgrade was meant to be "quick and easy" it obviously wasnt. So I thought I would give you something that is quick, easy, and works on so many levels it's one of my absolute essentials…have it with me wherever I go. I am not the hugest fan of using essential oils because the sheer quantity of plant material necessary to obtain such a small amount of oil. I do believe that there are other ways of using the same plants with similar results. – albeit they may take a bit more work.
But, having said that, I do use some essential oils. The three permanents in my cupboard are Tea Tree, Lavender & Chamomile.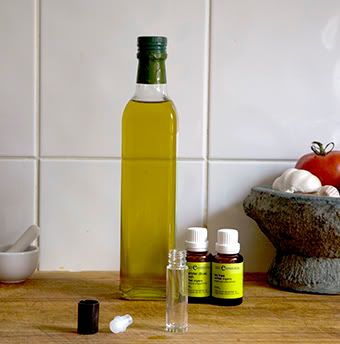 I am now going to show you the easiest remedy you have ever seen. All you need is some carrier oil – in this case I use an organic olive oil, tea tree & lavender essential oils. That's it.
In this instance I used a roll on perfume bottle (sterilised), filed it most of the way with the organic olive oil, then added 5 drops of Tea Tree and 5 drops of Lavender Essential Oils. Now, that is quite a lot for such a small quantity of carrier oil, but Tea Tree and Lavender are two of the few essential oils that can be put directly onto the skin, so unless you are allergic to the two, you wont have a problem.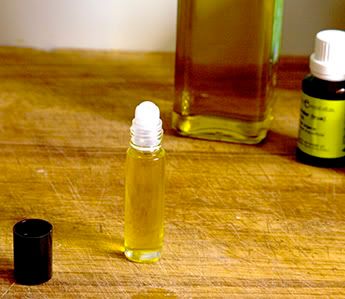 Shake it.
Pop the roll on top back on and Robert is your proverbial relative.
How easy was that?
As I said, this particular remedy I carry everywhere. Due to the antiseptic and antibacterial nature of these oils it is great for nicks and cuts, insect bites – it reduces the itching and swelling. Sunburn, mild burns in general, headaches, herpes sores, the list is practically endless. It is so versatile! and takes less than 2 minutes to make 🙂 I like using the roll on because it sits happily in my handbag until needed and is a lot less messy than a bottle of oil to carry about. Or you could heat it a little and melt a tiny amount of beeswax into it, pour into a small lip balm size jar, pop in the fridge and when set you have a salve version which is also less messy.
!!! Oh, dont use too much Lavender when pregnant, it is said to be a uterine stimulant.!!!
I hope that wet your appetite for more herbal info I have to impart, but for now that will have to last you until after the weekend – afterall a girl only turns 40 once 🙂 well, maybe I'll do it a few years in a row.
Stay Herbal!