Herbal Holiday – Germany
Posted On February 26, 2008
Hello herb lovers,
Finally, the pictures are uploaded, resized and ready to go.
Our trip (over Christmas & New Year) started in Germany. As I mentioned before for me Germany is herbal heaven. People know about remedies and use them freely. Doctors and pharmacists dispense herbal based medication instead of or to complement standard drugs. Across the road from our hotel there was an Apothecary and in both of their large display windows were rows upon rows of products based on herbal medicine. It was brilliant!
Apart from wanting to catch up with my sister who lives in Frankfurt, our reason for staying in Frankfurt was the famous Christmas Market. In a previous post I mentioned the herbal lollies I bought there.here is a picture of what I mean:
Every different colour a different herb or combination of herbs. The menu on the wall tells you what they are and what they are traditionally used for. Heaven!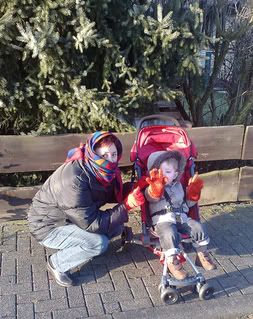 We were in Frankfurt for only three days, so much had to be squeezed into a short time. Regardless of what the temperatures were.
Even if it was -9 degrees Celsius at 9am. Yep, thats a MINUS! Harry had never encountered cold like this. But he didnt mind at all, busily admiring his "Elmo" gloves.
The freezing cold didnt stop us from wandering all over the city to explore. Of course I managed to find signs of herb use everywhere – from the stalls selling herb infused mulled wines to mistletoe being on sale in preparation for Christmas celebrations (approx. AU$5.00 a bunch). We had snow on the day we left for the airport….almost a white Christmas 🙂
Stay Herbal!