Herbal Holiday – England
Posted On February 28, 2008
Herbal holiday part 2:
From Frankfurt we flew to the UK. We stayed in a gorgeous little Dorset village called Mudeford. Temperatures were 10 – 20 degrees warmer than Germany which made outings a little easier.
Unfortunately we didnt get to do too many outings since this part of our journey was dedicated to family (and Christmas and New Year's celebrations).
But on one occasion we drove to Corfe to visit the 1000year old castle there. I was totally in my element since I love all that olde worlde stuff, and Corfe village is to die for. Of course I would hate to be there in summer when it would be overun with tourists. As it was the middle of winter, the pubs were still very busy at lunch time but it was pleasantly quiet in the streets and in the castle grounds.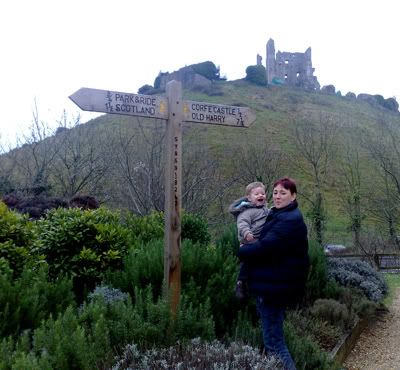 Young Harry under the sign to Old Harry. I still have no idea who or what Old Harry is, but there you go, it makes a good photo opportunity.
You can see the Castle ruin in the background but if you cast your eyes down towards my feet – lovely arent they? – you'll see that I am standing on the edge of a herb garden. The usual suspects of rosemary, thyme, sage, marjoram, lavender, bay and probably more I couldnt see from where I was standing. Lovely old plants that were well tended, it was lovely to see so much green in an English winter. Unfortunately there was no signage that I could see to give me a clue as to why this garden was there. It was next to the Information Centre for the castle and the darkish blob just above the bay laurel was a recreation of a peasant's hut that was being built with time true materials and methods, so maybe it belonged to that.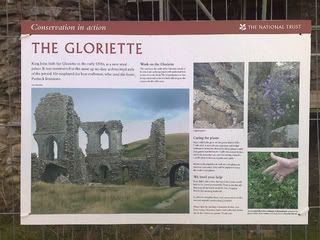 This sign was attached to one of the castle buildings. As usual I focused on the herbal side of things and was impressed with the trouble they go to to preserve the plants that are already there (see close up).
That was about the extent of herbal holiday gossip from the UK. Stay tuned for part 3 – Herbal Holiday – Hong Kong.
Stay Herbal!